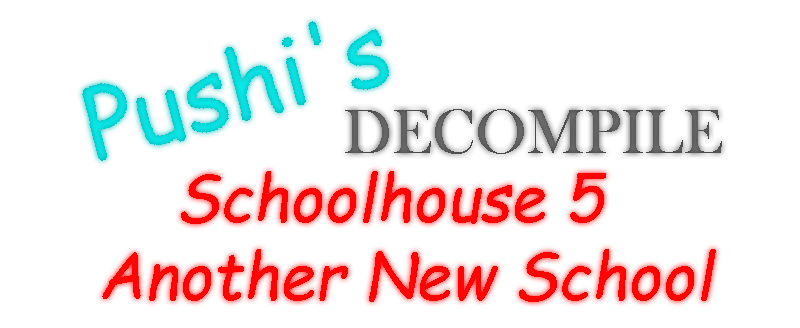 Pushi's Decompile Schoolhouse 5: The Another New School
A downloadable mod for Windows
Welcome to the another new School that teaches a slew of subjects! Meet Pushi's frien̸d̷s̴ ̶a̴l̸o̵n̶g̸ ̵t̵h̴e̸ ̴w̴a̶y̴,̵ ̶e̴͕̎x̴͉́p̶̜̈́e̶͉̾r̴̢͋i̷̲͒m̵̪̆e̴̬͌n̶̝̑t̸̰̏ ̶̟͊ẁ̶̲i̷̫̍t̶̡̉h̸̢̔ ̵̜͝i̷̘͊t̷͉͘ẻ̴̤m̸̗͇̋͊̿͑̃͊͜ŝ̷̳̜̬̃͛̎͝,̵̖̔ ̵̠̉̈́̽̓̃̑a̴̻̟̒̃́̋͘ň̴͙͉͖̳̺͌̇͌͠ͅd̵͉̒̍̿́̂͗ͅ ̶̧̥͉̬̹̬̾͐ĕ̵̗̪̩̒͂̏̑̕x̶͔͉͉͚̓͜p̴̧̡̛͇l̶͚͙̻̋͌̀̈͋o̸̦͍̾͜ȓ̵̝̯͍̑̂e̸͎̮͍͛ͅͅ ̶͇́̇̓͋t̷̰̖͈̻̖̃͘͠ơ̸̱͊͌̀̓ ̷̈́̅͜y̷̤͇̠͖̭̔͒̕ȍ̶͔͘͠ų̴̳̮̺̕̚͠ͅr̴̙̣̤͈̂͊͒̽̈́̔ ̸͚̤̟̥̑ḣ̴͙͙̦͍́̓ DON'T DOWNLOAD THIS GAME! It's not what it looks like! Once you anger Pushi, there's no turning back, and if he finds you... Look, just trust me okay? I'm warning you, if you end up playing this, avoid Pushi at ALL COSTS. Use the items sca̶t̷t̷e̵r̵e̴d̸ ̸a̸r̴o̸u̶n̷d̸ ̸t̵o̴ ̴y̸o̶u̷r̵ ̶a̴d̵v̴a̴n̸t̶ä̴̠́ͅǵ̷̡̖̹̼̌̑e̶͚͒̔̋̋.̴̤͔̜̙̎̀̀́ ̷̠̬͌M̴̢͍̻͂̎͜a̶̧̳̥͆͆̋͝ͅn̴̬̫̥̰̐i̶̻͊p̷͉̂̈ū̶̦ḷ̵̨̡͙̅ȃ̷̢̜͎̏͆̃͜ẗ̸͚è̴̱̞ ̵̨̖̤̓́̕͜ḫ̴̺́i̵̮̽͘m̵͚̜̘͆̅ ̵̞̫̂͋b̵͈̪̜̞͒̔̿y̷̫̿̾̽͝ ̸̰͙̯̺̏͑̔ḿ̶̡̃̒̀a̶̘͛k̴̬͎̼͑̋i̵͓͒͑n̸͓̩̝̈́͂͂͘ğ̶̦͙́̕͝ ̸̝͙͈̺̃̐ñ̷̮͚͔̍̒ő̸̮̼i̶̯͇̦̅́̈͜s̷̬͎̿̄e̵̮̠̯̽̎̽s̴̯̤̣̾̅̃ ̶͓̅̈t̴̺̹͎̙͆̀̓̌h̵̰̫͗͜ä̴̦̠͒ţ̷͓̤̞͑̍ ̴̫̪̞̔l̶͎̜͂̌e̸̥̋͊̎͘à̵̫͈̙d̴̬̳̳̃ ̵̰͑̚̕h̵̨̤̐͜i̶̛͇̻̱̅̌̌m̸̺̞͔̩̓̈́ ̶̨͕̜͋Á̴͈͓͉̜͌̕W̵̨̟̆̎̑A̷̰̒̈́͘Y̷̩̒͒̈́̐̃ ̶̬͈̯͈̈́̋͆f̸̭̻͚͐͒͜͜r̴̯̤͖͒͗͆͌͌̚ỏ̷̹̦̊̒̾͛̈́m̷̲̃ ̸̠̤͍̥͆̄̂̈́̈̎y̴̨̳̳͖̗̥̌͌̌̈́͝ǫ̶̧͔̯͓̿̉̚ū̸̞͍̯̱͓͓,̸͕̲̀̎ ̵̗̹͌̆a̶̜͚͉̽́̔̎̀͝ņ̴̘̜͖̱͠d̸͇̲̱͆ ̵̴̗̹̫͕̆̈͒͆̕̚M̸̲̮̜͊̓̿͝Ö̶̮̰́͌̚͝S̴̰̬̰̃̈́̉̄͘T̷̩͔͊͌̈́͂͛̑͊̃ ̷̻̞̰̳̗͔̠̒Î̵̫̪̯̹̳͊̑̽̊͛̓͑M̷̩̫̯̲̣̣͎̻̏̑̋̊ͅP̸̩͔̞̈͗̇̓͝O̷̭͛̑R̵̰͙̍̈́͗̓̂̾T̷̖̝̘͐͌̉ͅA̷̡̬̙͉̝̖̭̼̔̏̎̂N̷̨̨̘̖̙̮̩̝̎̿͗́̃̃͜eart's content while you look for all the notebooks! This game doesn't just teach education, it also teaches FUN!
Credits
Paulor94 - Made the original Baldi's basic random maps series: The first school
mystman12 - Made original Baldi's Basics
SaintzaYT - Made School Music
GreatPushiModder (Mojang2468) - Made this Mod
Mundodavi2 - For Filename2 Sounds from 3D Wall and 3D Bizzare School
Youtubers must play this mod is:
PGHLFilms
BaldiTM
IULITM/UNKNOWN
The Wizard Royal
Kindly Keyin
MediaGamesGuide
Bijuu Mike
And more!
If you find youtuber that played my mod, ask me to upload.
List of Chapters:
Chapter 1 - Great Welcome!
Chapter 2 - In the Library
Chapter 3 - Fun New School
Chapter 4 - Lost in the Forest
Chapter 5 - Another New School
Chapter 6 - The Final Battle
Comments
Log in with itch.io to leave a comment.
I Was Thinking About Pushi Wearing A Wig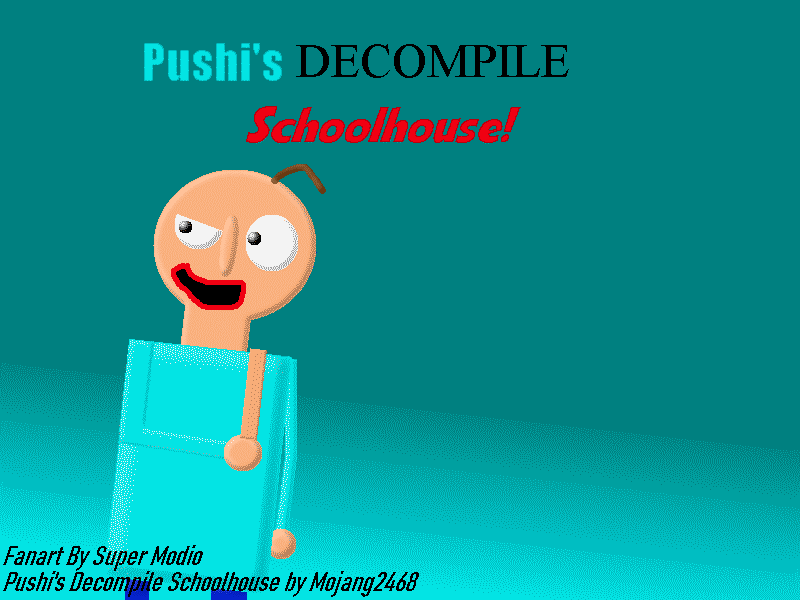 Fanart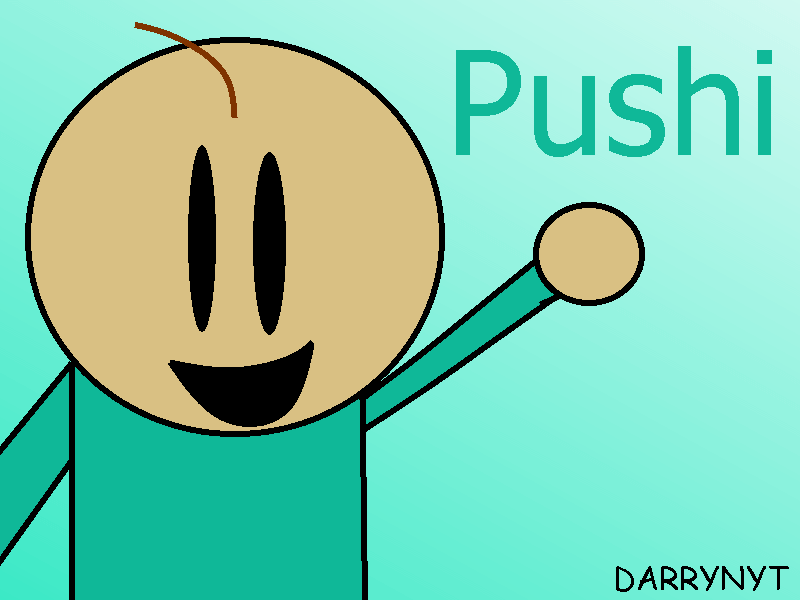 These mods are nice, can you make these mods too? Naldi's Basics, Holdi's School, And Baldi's Basics In New Rooms!
Hm. Didn't expect you would make the game on Paulor94's First map the BBRMS.
I KNEW YOU WERE GONNA MAKE A PAULOR94 MAP!!!
Yes. I made this mod of BBRMS: The first school.
When will chapter 6 the final battle come out? And this is a good series so far!